Limited Spaces N2
SCREEN
interactive Installation/performance
Choreography and peformance: Heike Langsdorf & Palle Dyrvall
Set design: Peter Maschke
Constructor : Stephane Tambeur

coproduction: Vlaamse Gemeenschapscommissie - www.vgc.be
Netwerk, Contemporary Art Center - www.kunstencentrumnetwerk.be
with support: Nadine vzw - www.nadine.be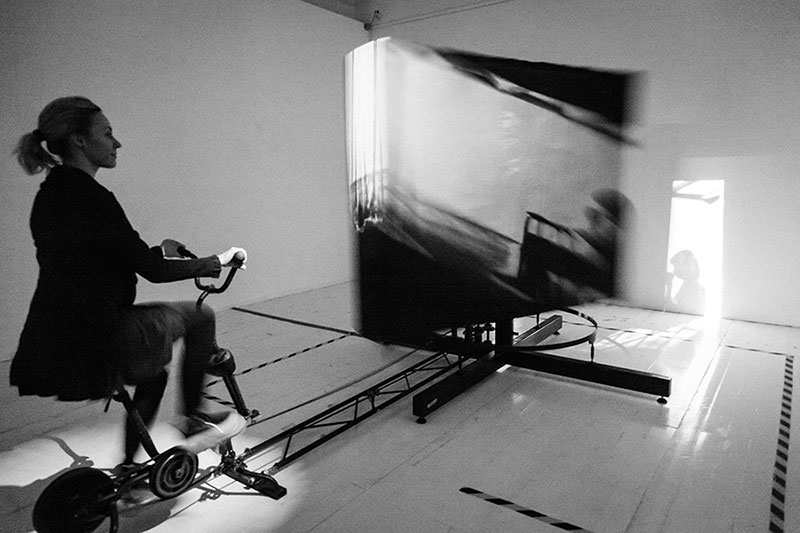 photo M. Ragozina
Description
Performance

Like all installations presented at this exhibition "Limited Spaces-2" cannot exist without the viewer's active involvement. On approaching the piece, the viewer must mount a bicycle and start pedaling at a suitable and steady speed — only then will the projection of a film onto the screen start. In order to watch the film to the end one has to continue cycling without stopping.
This work is built around a performance, produced by two actors: a man riding a bicycle and a woman, who, concealed behind the screen, moves depending on the man's velocity, unintentionally creating changing reliefs which resemble sculptures. The abusive nature of the relationship embodied in the performance clearly draws on the ancient Greek myth about sculptor Pygmalion and his "artwork" Galatea on the one hand, and on the other references more contemporary feminist discourse, something to which the artist is far from being indifferent. The faster the man pedals, the faster and more forcedly the woman moves. Few trained artists could withstand such a speed. The work is also a test of one's humanism: how far the viewer, who is cycling, can go on testing the capacity of the machine keeping in mind that inside there is a person who suffers as the piece progresses, tying herself in knots. By realizing this key issue of feminist discourse in terms of art, the artist accentuates and visualizes the problems of violence and manipulation, turning the piece into a metaphor for gender inequality, thus raising the issue of the necessity of revising gender role behavior and stereotypes imposed by society.
But there is also good news. In the version of the installation presented in the exhibition, the viewer discovers firstly that, in the process of immersing oneself in the film, one can physically experience what "to keep the situation under control" means. Secondly, one involuntarily becomes a witness of the first law of thermodynamics according to which energy can be neither created nor destroyed but only transformed from one form to another through various physical processes. Alexandra Dementieva never imposes her point of view, always giving the viewer the choice — he or she can either engage with an interactive installation and agree with the artist's interpretation, make up his or her own explanation, or alternatively just pass by.
Elena Selina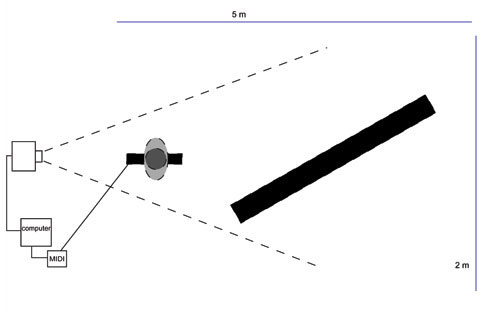 Installation
Technical description of performance and installation
Construction 'Screen+Bicycle'
1 video projector
wires to connect cameras and projectors
1 computers Mac or PC, 2.4 GHz Intel Core 2 Duo, Memory 2 GB, GeForce 8600M - 256 MB


Installation "Screen" is a part of a project "Limited Spaces" which includes 2 works more.
The time of performance of two installations "Cube" and "Screen" is 30-40 minutes.
Each installation deals with a limited space and a dancer inside of it.
The conditions of performers are different.

Installations relate to each other by light and sounds. Light of "Cube" Installation reflects on "Screens" one.
Both installations work are fuctioning in the same time with 10 minutes delay between.
"Cube" installation begins and "Screens" action starts 15 minutes later.

Technologies : Max/Msp/Jitter - SoftVNS - Interface-z
Production : Transcultures