Tubular Hearing Trio
Performance


Twin Depths
Underwater performance


Mirror's Traces
Interactive video installation / performance


Prepared Piano
Performance


Tunnel Hearing
Performance


Business Woman
Performance


Madness
of Day

by Maurice Blanchot

Theater / Performance


Chat

Performance & film

Cast:

Anne D'hond


Soundtrack & music:

Aeroundt Jacobs
Director: Alexandra Dementieva


Limited Spaces N2
SCREEN
interactive Installation/performance

choreography & performance: Heike Langsdorf & Palle Dyrvall
set design: Peter Maschke
constructors: Stephane Tambeur, Fredo

coproduction:

Vlaamse Gemeenschapscommissie - www.vgc.be
Netwerk, Contemporary Art Center - www.kunstencentrumnetwerk.be
with support: Nadine vzw - www.nadine.be

In Limited Spaces N°2 'Screen' (in collaboration with dancers Heike Langsdorf and Palle Dyrvall) the performers are invisibly integrated in a rotating mechanism propelled by a bicycle. Their bodies only become visible once they try to escape from their passive state.


Mirror's Memory
interactive Installation/performance
residence: Tani/Nadine
Minimal
Performance

Alexandra Dementieva and Arnaud Jacobs
composer: TMRX

investigating the influence on perception of minimalist sound and image
www.tmrx.org
Limited Spaces N1
CUBE
interactive Installation/performance

Alexandra Dementieva and Siegfried Canto
choreography and dance: Celine Peroud

coproduction:
Transcultures - www.transcultures.net
Netwerk, Contemporary Art Center - www.kunstencentrumnetwerk.be


| | |
| --- | --- |
| | The work 'Limited Spaces' is inspired by behavior psychology and asks for an active participation of the spectator, whose actions will interrogate our perception, our relations with others and our own image. The meaning reveals itself through the visitor's involvement in dance, image and music. "Limited Spaces" is multidisciplinary work. |
Technologies : Max/Msp/Jitter - SoftVNS - Interface-z
Trafic
Performance

Arnaud Jacobs and Alexandra Dementieva
Composer: TMRX

The environmental atmospheric soundtrack combined with images, depriving them this way narrarive meaning. The usual balance between image and sound is displaced.
The image and sounds for 'Trafic' were collected during the travels of visual artist and composer.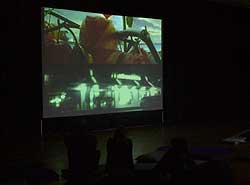 www.tmrx.org